Don't have any before pictures but the closet used to be built with 16" deep particle board with 24" wide shelves on the left and a single closet bar on the right. We ripped it all out taking with it a bunch of paint and drywall. Repaired the drywall with a few coats of mud, sanded, primed, and painted.
(Blue lines represent the layout of the old closet with closet rod on the right hand side)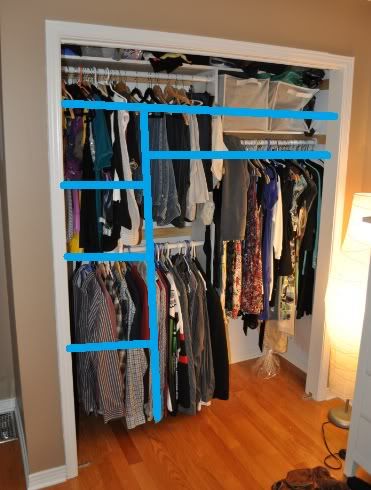 Old master closet organizer (blue lines)
We used 12" (or was it 14") melamine shelving boards to make the new closet organizer. We used 1x3s screwed into the studs all around the closet to hold up the shelves. The holes were countersunk to hide the screws and eventually we will fill the holes with wood filler and prime/paint the 1x3s. Used some white closet rods and flush mount rod holders for the closet rods. Everything fits good. We also picked up some remote operated battery powered LED lights for the closet. There are 4 pucks and although not that bright, work good for a bit of extra light in the closet.
The closet is much more functional as previously we had about 4 feet of closet rod and that was it. Now we have almost 3 times that much. The top shelf is quite high but still accessible and good for storing sweaters and such. The closet didn't take very long once we got started but took a LOT of planning to try and figure out the best way to do it and make it look good.
New master closet.